Video - A Visit to New Echota
Monument - Srebrenica Massacre, Bosnia
Books Available in the EHS Media Center
Old Hickory:Andrew Jackson and the American People
Call Number: B JAC
ISBN: 0525472932
Publication Date: 2004-12-16
Presents a study of the seventh president of the United States, Andrew Jackson, and chronicles his childhood, participation in the Revolutionary War and War of 1812, and his political policies that led to problems with Native Americans and the "Trail of Tears.
Fire in the Soul
Call Number: 808.81 FIR
ISBN: 1906523169
Publication Date: 2009-10-01
A collection of 100 poems that address issues of human rights and the creativity of the human spirit.
Cheokee Nation V. Georgia (Famous Trials)
Call Number: 342.73 AAS
ISBN: 1560066288
Publication Date: 2000
Describes the attempts to protect the rights of Cherokees living in Georgia beginning in the colonial period, including the landmark Supreme Court cases, Cherokee Nation vs. Georgia, and Worcester vs. Georgia.
Ethnic Violence
Call Number: 305.8 ETH
ISBN: 0737701641
Publication Date: 2000-01-01
Places ethnic violence in a historical perspective and discusses causes and cures for it.
Rwanda - Genocide Memorial
The Civil Rights Movement
Lord of the Flies text, exam, study guide, and notes
http://lordoftheflies.org/gal/lotf.htm
Lord of the Flies
Call Number: FIC GOL
ISBN: 0884116956
Publication Date: 1975
Shipwrecked children turn to primitive savagery in a portrayal of the collapse of social order into chaos.
Books Available in the EHS Media Center
Sudan
Call Number: 962.4 LEV
ISBN: 0761402845
Publication Date: 2007
Provides comprehensive information on the geography, history, wildlife, governmental structure, economy, cultural diversity, peoples, religion, and culture of Sudan.
An Ordinary Man: An Autobiography
Call Number: B RUS
ISBN: 0670037524
Publication Date: 2007
Paul Rusesabagina recounts the story of his life, describing what it was like to grow up on a small farm in Rwanda, how he became the first Rwandan general manager of a Belgian-owned hotel, and how he helped his fellow countrymen during the 1994 Rwandan genocide.
Genocide
Call Number: 304.6 JAN
ISBN: 0761334211
Publication Date: 2006-10-01
Explores the process of genocide by examining the genocides of six different groups of people, the Armenians of the Ottoman Empire, the Jews of Europe, the Cambodians, the Tutsis of Rwanda, the Muslims of Bosnia, and the Darfur tribes of Sudan, focusing on the human aspects of genocide that are often overlooked.
Bosnia
Call Number: 949.702 BLA
ISBN: 082253553x
Publication Date: 1997-07-01
Describes the history of the ethnic conflict in Bosnia, including current issues.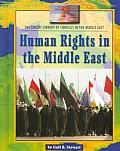 Human Rights in the Middle East
Call Number: 323 STE
ISBN: 1590184882
Publication Date: 2004-08-27
Describes the treatment of criminals, prisoners, and ordinary citizens in Middle Eastern countries, including Saudi Arabia, Iraq, Iran, Israel, and others, and provides an annotated further reading list.
How to Cite Images - MLA Format
ELACC9-10RH1: Cite specific textual evidence to support analysis of primary and secondary sources, attending to such features as the date and origin of the information.
ELACC9-10RH2: Determine the central ideas or information of a primary or secondary source; provide an accurate summary of how key events or ideas develop over the course of the text.
ELACC9-10RH3: Analyze in detail a series of events described in a text; determine whether earlier events caused later ones or simply preceded them.
ELACC9-10RH6: Compare the point of view of two or more authors for how they treat the same or similar topics, including which details they include and emphasize in their respective accounts.
ELACC9-10RH7: Integrate quantitative or technical analysis (e.g., charts, research data) with qualitative analysis in print or digital text.
ELACC9-10RH8: Assess the extent to which the reasoning and evidence in a text support the author's claims.
ELACC9-10RH9: Compare and contrast treatments of the same topic in several primary and secondary sources.
ELACC9-10RST7: Translate quantitative or technical information expressed in words in a text into visual form (e.g., a table or chart) and translate information expressed visually or mathematically (e.g., in an equation) into words.
ELACC9-10RST6: Analyze the author's purpose in providing an explanation, describing a procedure, or discussing an experiment in a text, defining the question the author seeks to address.
ELACC9-10RST2: Determine the central ideas or conclusions of a text; trace the text's explanation or depiction of a complex process, phenomenon, or concept; provide an accurate summary of the text.
ELACC9-10WHST6: Use technology, including the Internet, to produce, publish, and update individual or shared writing products, taking advantage of technology's capacity to link to other information and to display information flexibly and dynamically.  Research to Build and Present Knowledge
ELACC9-10WHST7: Conduct short as well as more sustained research projects to answer a question (including a self-generated question) or solve a problem; narrow or broaden the inquiry when appropriate; synthesize multiple sources on the subject, demonstrating understanding of the subject under investigation.
ELACC9-10WHST8: Gather relevant information from multiple authoritative print and digital sources, using advanced searches effectively; assess the usefulness of each source in answering the research question; integrate information into the text selectively to maintain the flow of ideas, avoiding plagiarism and following a standard format for citation.
ELACC9-10WHST9: Draw evidence from informational texts to support analysis, reflection, and research.